Friday Blog has moved! Click Here.
NEW! Director's Corner Blog is here

SEPTEMBER 29, 2017


This is my last Friday Blog.
All good things must come to an end.
David Cross, the new director of Global Intent, will be staring his own blog at this website. It has been an amazing 16 months – this blog has now been read from 71 countries! I have been tremendously encouraged by active tentmakers sharing how they have been helped by these articles. If you would like to track my personal blog dedicated to tentmaking, go here.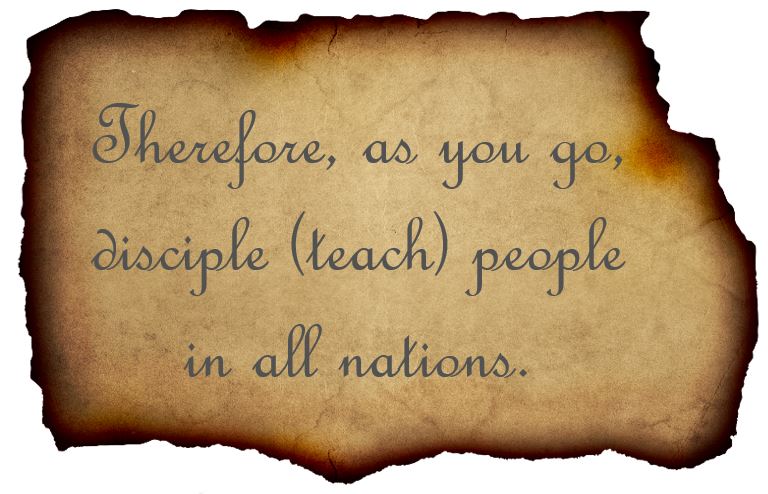 Planting house churches or making disciples who make disciples?
CPM or DMM?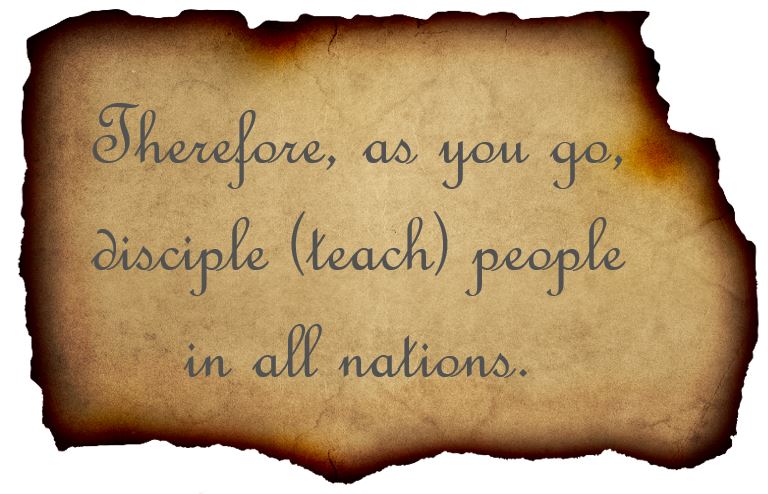 At our tentmaking courses, which we have been running since 1997 in over a dozen countries, our focus has been to train Christian business people, professionals, and students in the steps of planting house churches, especially where the name of Jesus is not yet known. All of our teaching sessions were designed to point to this end result.
However, about a decade later, we had heard back from returned tentmakers that planting house churches was hit-and-miss; mostly, it just wasn't happening. This led to personal discouragement and a feeling that they had failed.
As our training program was always evolving to line up with reports from the field, we realized a change of focus was needed.
I have never been more proud of our international training teams than when they were able to shift the focus to making disciples that make disciples.
Thus our training program became all about teaching regular, everyday Christians about sharing their faith and making disciples who themselves would make disciples, even long after the tentmakers had returned home from their job contract abroad.
"Intentional discipling of disciplers leads to self multiplying house churches."

We were excited to notice that this focus led to house groups being born, almost as an automatic result of intentional discipleship of fellow workers and neighbours.
Do you want to learn how to make disciples where you are planted, whether abroad or at home? Let us help you get started by attending our next tentmaking course in Germany, October 28-31, 2017. See you there!


SEPTEMBER 22, 2017

The generic tentmaker
Dictionary: "A person who is normal, who fits into mainstream"
Sometimes we are guilty of highlighting the superheroes of tentmaking, you know, the ones who to start multiple churches, win dozens to Jesus, start disciple making movements, build God honoring companies that also disciple their employees and communities.
What about the average tentmaker? The one who does not dare to share their story because they firmly believe they don't have a WOW story?
Reality is that most tentmakers are not hitting the ball out of the visual ballpark, indeed they may not even get up to bat.
What does that "average" or "generic" tentmaker look like?
For over 20 years, I have been interviewing returned tentmakers and heard of their victories & failures. This is what I have learned.
They have shared their faith (usually when asked) with a co-worker, neighbor or friend.
They have somehow gotten a Bible in the local language to a few people.
They have tried their best to live a Christ honoring lifestyle, especially at work where they spend most of their waking hours.
They have invited people to their homes, where faith discussions have taken place.
They have intentionally prayed for their host country friends.
They have not actually seen anyone become a follower of Jesus.
They have returned home with positive memories of life abroad in a new culture.
They consider themselves a failure since they did not see anyone become a believer.
Short story of a "failed" tentmaker.
The good doctor worked as a village health care worker for over 20 years in a very closed country. In all those years, she did not see a single person accept Jesus. On retirement, she returned home disappointed and discouraged.
She found herself on vacation on a small island in the Mediterranean. There she met a young man who had a ministry of mentoring over one hundred underground churches via radio broadcasts, to the country the doctor had worked in. The young man told her that she had given him a Bible when she was visiting his village 15 years earlier. He had become a secret believer at age 14. Now he was the defacto leader of the underground church in his homeland.
The doctor did not remember ever giving anyone a Bible since it was forbidden. The young man insisted it was her, as he had begged her for a Bible before she left his village.
Obedience not sacrifice.
I personally do not believe there is such a thing as a failed tentmaker simply because we do not know what has happened in the spiritual realm or what kinds of seeds have been sown.
Our job is to be obey the one who has sent us. We do the work, the results are in God's hands.
Want to learn more about bringing your faith to work? Join us for the next Tentmaking Course in Germany.
Ari J. Rocklin
September 1, 2017
 
Why training for ministry skills is important.
Business as mission (BAM) is a fast growing component of missions which includes the unreached areas of the world, and so it should be. It is a wonderful way to enable people to help themselves instead of being supported by well intended organizations or individuals. I am excited at this trend and in seeing great changes in many countries where I am in contact with tentmakers.
Here is the problem as I see it.
When I look at BAM events around the world, and look at the schedules and outlines of topics that will be addressed, I seldom see a ministry component or how to do ministry in tandem with the business.
I once wrote the BAM seminar coordinators of an upcoming event and asked why there was no ministry training included in their wonderful program? They told me that it simply had not crossed their minds, as they were busy lining up people with much to offer in developing a business plan, dealing with bureaucracy, raising funds etc. In their defense, they immediately asked me if I could teach such a session.
Many Christian professionals take jobs overseas or are assigned to a foreign posting by their company, often to so called closed countries. Unfortunately many leave without any specific ministry training and thus miss out on intentional sharing of their faith in meaningful ways.
"Christian professionals with overseas jobs are not tentmakers
unless they intentionally seek to make Jesus known to the local people of the host country" 
Ruth Siemens
Global Intent trains tentmakers, whether they are  business people, professionals or students going abroad, for critical ministry skills in difficult countries, many of which are hostile to Christianity, not only to thrive in new cultures but to have effective ministry within the constraints of local laws and regulations. This may sound overwhelmingly difficult, but it does not have to be.
As a high level security official of a closed country once told me in a brash way, "Not even in Slamistan (his country) is it against the law to answer questions." This simple statement tells us that renting a building for church services and then inviting people to come to a meeting is not permitted, but having relational conversations, replying to people's questions, is not only accepted, but legal.
When you seek out training for tentmaking, make sure you will also learn about doing mission.
Learn to integrate your ministry plan with your business plan, and let God do the rest.
AUGUST 18, 2017

Member care on a small island.
Global Intent is serious about member care!
Many years ago I felt God speaking to my heart to provide a place for tentmakers where they could find rest, restoration and to hear His voice in the silence.
Through a series of God interventions, we were able to launch Arbutus Rock Cottage in 2014, on a small island in the center of the triangle of three international airports, Seattle, Vancouver & Victoria. www.mayneislander.com/history
Since then over one hundred tentmakers have been able to stay for free, for as long as they needed to recharge drained spiritual batteries. Many comment on the joy of breathing clean ocean and pine forest air compared to the serious air pollution in countries where they serve.
This year has seen the first few "wounded warrior tentmakers" seeking to recover from physical, spiritual and emotional attacks while serving among the unreached.
From the feedback of those who have stayed at Arbutus Rock, it has become evident that staying in a quiet place has amazing healing qualities, but having access to a personal connection would have been an additional benefit.
PHASE II
We are now in the process of building a new retreat on acreage, with multiple simple guest cabins, one guest house for longer stays and our own home. This will permit guests to spend as much (or as little) time as they want sharing their experiences with us, which in turn will help us serve future tentmakers better.
It is our dream to eventually hold tentmaking courses there during summer months, perhaps in a large tent?
This is a huge project just getting started, the building permits have a deadline of July 2019. The first building to go up is the tentmaker guest house and we hope to get that off the ground later this year.
Pray that we will be able to meet that deadline or even finish earlier.
"Helping tentmakers get there since 1998 – now helping them stay there", after a time of restoration and rejuvenation on a small island.
ICELAND – becomes the 66th country to visit this humble blog.
August 11, 2017
 
At the end of summer vacation and end of the first week back to work, I want to honor the supporters of Global Intent for their faithfulness through the years to the unreached. It takes vision and strategic thinking to support an organization committed to mobilizing, equipping and mentoring tentmakers to go to the unreached. A new statistic indicates that the number of missionaries going to the unreached has tripled in the last 20 years! I would like to think that your support has had something to do with that growth!
I also want to honor the thousands of tentmakers who have left behind families, homes, jobs and their home churches to go to the unreached with the Gospel.
WHICH VIEW WOULD YOU PREFER?

This week we have hosted a returned tentmaker couple from the Middle East whose journey has impacted me personally. As they were getting ready to leave their home we had an opportunity to see firsthand their beautiful house that had been sold. Walking through empty rooms, with wood floors echoing every step, the view from the living room window was breathtaking. The blue ocean and behind it a majestic mountain with snow on the high peaks. That picture has stayed with me. As the couple closed their door to their home for the last time, it spoke to me. They are willing to leave behind all this for the sake of the Gospel!
Once they got overseas I asked them what they were seeing out of their living room window? Their reply left me cold.
"We are seeing a high concrete wall about six feet away."
Global Intent is stepping up the challenge of equipping a new generation of tentmakers who will go wherever God leads them without counting the cost or looking in the rear view mirror.
Ari J. Rocklin
Interim Director (until October 2017)
GLOBAL Intent
June 30 – August 4, 2017
One year later…
On the 21st of June, 2016 much to my surprise I was made a reluctant interim director of Global Opportunities. The mandate from the board was clear, take GO into a new era of impact by reinventing an organization founded by Ruth Siemens way back in 1984.
It has been a difficult year with many setbacks and long days. Early in the process most of my trusted advisors suggested it might be best to just shut down the organization.
However, I firmly believe in the founder's vision and also saw the need for a made in US tentmaking organization that would mobilize, equip and mentor new tentmakers and specifically to reach out to a new generation of world changes.
As of today, Global Intent has been launched, the director's search has begun and all the pieces are in place for us to move ahead into this new era.
The last piece to be added is an organization focused, quarterly newsletter for subscribers and supporters. Phill Sandahl, GI's Operations Director, will be the chief editor of "TheIntentionalQuarterly" which is due to be launched in September this year.
Tentmaking Briefs was launched by Global Opportunities in March of 2009 and is reaching readers in 212 countries, making it the most widely read publication on tentmaking in the world.

In September, Tentmaking Briefs will be re-branded and re-launched as "Tentmaking Today", an independent eJournal of the worldwide tentmaking movement.
We at Global Intent are thankful to God and our supporters for this past year and look forward to the fall season with anticipation. I am especially thankful for the hard & tireless work of Phill Sandahl, without whom I could not have made it through this year.
It is now time to take a break for the summer so the next Friday Blog will be on the 4th of August.
Have a blessed, relaxed and safe summer!
Ari J. Rocklin
Interim Director
GLOBAL Intent
June 23, 2017

We are the other rail in missions!
Someone recently asked me: "What would be different if there was no Global Intent? Who would miss it?"
This was my response: "People who desire to reach the unreached with the Gospel, who don't see themselves as supported missionaries nor do they want to join a mission agency, would not have a support organization to help them get ready to go there. Most would probably not even know such a track to missions exists."
To me, that would be a tragic loss to expanding His Kingdom among those who have never heard about Jesus.
FACT: 95% of those we train and mentor choose to go directly sent by their home church. Yet, we encourage everyone to connect with three mission agencies before deciding.
A professor at Trinity College and Seminary recently noted that tentmaking is an increasingly preferred means to advance the Gospel and may become the dominant method in the foreseeable future.
Who else would miss Global Intent?
Literally the hundreds of tentmakers we have helped get there have no one else to go to when they need help, encouragement and practical advice. Each day we receive emails from the field; some are just delightful updates, while others are from tentmakers facing incredible hardships and battles, both spiritual and physical.
One recent contact from the Middle East said this:
"I have no one else to share my pain with other than you. My church back home would be horrified and probably insist I come home immediately. My prayer partners' faith would be rocked by this news. My family, who are not believers would just shake their head and wonder why I am doing this in the first place. Thus you are the only one I can turn to in time of distress, you are my lifeline. Thank you supporters for me."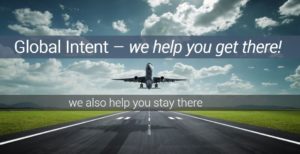 Global Intent is not just in the business of getting people out there, although that is the most visible part of our ministry. We are needed to help people
stay
out there.
Your support of this ministry allows us to be there for these heroes of the faith.
Ari J. Rocklin
Interim Director
GLOBAL Intent
16 June 2017
The 20 year history of our logo

Back in 1997, David English designed the logo for what was then called Global Opportunities. A modified version of this logo was also used in the GO World publication.
In 2007, it was decided to update both the logo and the website. Eero of Antturi Design was kind enough to work with us in developing the new look. For consistency, we kept the arrow and went with our new corporate colors.
Ten years later, we debuted the new name and new logo designed by Stanley Ekelund of InMarketing. We kept the corporate color from 2007, as well as the arrow, now integrated into the letter G.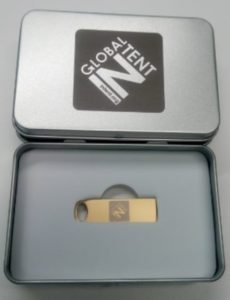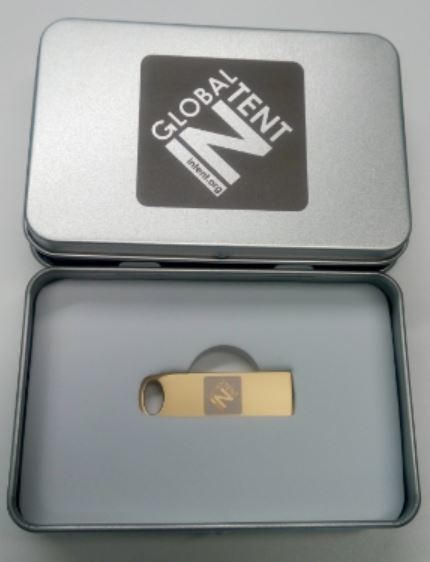 SPECIAL LIMITED OFFER
We are so proud of our new name and logo that we decided to make a limited number of metal engraved USB sticks with a presentation case, and distribute them to anyone who donates $100 or more. These USB sticks were paid for from my personal account, which means Global Intent will receive 100% of your kind gift.
It is our suggestion that you keep the USB stick on your key chain (you never know when you might need one) and the tin box on your work desk, so that you are reminded to pray for us and perhaps get an opportunity to tell someone what we do when they see the logo.
Stay tuned for the launch of our organizational newsletter in September. What do you think of the name?
Please continue to pray for us to find a new director sent by God to lead us into a new era of tentmaker mobilization from the US to the unreached areas of the world.
Ari J. Rocklin
Interim Director
GLOBAL Intent
JUNE 9, 2017
Histories of
Global Opportunities
& Intent
History of Intent

In 1991, the United States Association of Tentmakers – "networking professionals for global impact" was born. The name was changed to Intent but the mandate remained the same: to serve the enablers and tentmakers who share a commitment to the strategic involvement of Kingdom Professionals in helping to fulfill the Great Commission and the Great Commandment of Christ.
INTENT:
was not a sending agency, but their network includes sending agencies.

was a membership organization seeking to network professionals for global impact.

was a network of enablers; primarily, missions sending agency executives, sending church pastors and staff, educators, business people, foundation executives, access platform financiers, mentors and practitioners.

was a network of people and institutions who help

Kingdom Professionals

catch the vision of being strategically involved in reaching the unreached people groups of the world.

helped to connect and combine the experience of practitioners, enablers and sending institutions, both churches and agencies, and to develop communication channels, research and evaluate criteria for serving Kingdom Professionals.

shared information through their website, printed materials, cassette tapes, selected videos and books.

maintained a resource desk offering: information about where God has opened windows of opportunity and provided advice on getting there.

Mindshare – ask us your questions, we'll get answers to help you from our network of experienced practitioners.
History of Global Opportunities
Ruth Siemens went to Peru in 1953 to teach at an international school. She had a very successful tentmaking ministry in a number of countries before returning to the US.
She then joined Inter Varcity Christian Fellowship in 1975. As students responded to tentmaking, Ruth helped them find jobs, prepare, and go overseas.
In 1984, Ruth launched Global Opportunities (GO) to continue her work.
Scott and Sharon Gordon joined GO to help Ruth, with Scott becoming the director.
In 1996, GO's board asked David English who had been serving on the board, to be the executive director.
In 2016, Dave resigned and the board asked Ari Rocklin to be the interim director until a new director could be found.
GLOBAL Opportunities:
is not a sending agency, but works with mission agencies and churches

mobilizes, equips and mentors

Christian professionals, business people & university students to make disciples while integrating work and witness where Jesus is not yet known.

provides training for future tentmakers

has a mentoring program made up of former tentmakers

has a resource rich website which helps tentmakers through the process of going abroad.

publishes various targeted blogs and newsletters

maintains a database of job opportunities for tentmakers
If you have read this far, it should be clear that these two made in USA tentmaking organizations share a common vision and merging their names into Global Intent pays homage to their rich histories.
A more detailed history of Intent and Global Opportunities will be soon available on our website at the About Page.
Read Ruth's amazing story, "How one woman started a tentmaking movement" 
JUNE 2, 2017
Welcome to the new location of Friday Blog!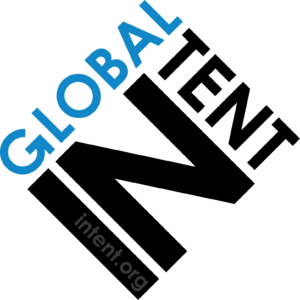 We are excited at the launch of our new name and early version of our website.  First of all I want to thank Stanley Ekelund of Göteborg Sweden for his work on our new logo. We think it is excellent and will not soon be dated. Another professional graphic artist commented that this type of logo has a long shelf life. Here is Stanley's business website. Tack så mycket Stanley, Gud välsigne dig för ditt bidrag!
The logo incorporates a color and word (Global) from our past and includes the name of another tentmaking group (Intent) that had a good run in the US.
Here is our brief promo statement on our new website.
"Our new minimalist website has been designed to work well on the mobile platform, to load fast, 'no splash – no flash', no pictures of random people, just the facts. A resource rich website with a simple navigation structure designed to get people to what they are looking for in 3 clicks or less. – We help you get there!"
We regret it was not fully ready by launch date, but it remains one of our priorities with a new article being posted monthly and hopefully better versions of our navigation buttons.
As our organization is seeking a new director for this new era, we are busy making sure all the ducks are in the right rows so we as a team can line up behind new leadership.
Special promotion – limited availability 
We have a limited number of these metal Kingston 8GB USB sticks with our new logo etched on them in a nice tin presentation box. If you would like one, please make a donation to Global Intent of more than $100 and we will send it to you post haste.
We hope you will put it on your key chain, as you never know when you might need one. Additionally, if you put the tin box on your work desk with mints inside, it will be a reminder to pray for us.
In this new era, we will be working closely with US based mission agencies and other like minded organizations. An online version of our long running classroom tentmaking course will be launched as soon as possible. It will be called Integrated Faith tentmaking course, designed for Christian professionals, business people, students and retirees as a first step toward going to the nations with the good news.
Please remember us in your prayers and also consider making a donation to help us move forward!


DEADLINE FOR APPLICATIONS: June 31, 2017