Last Tentmaking Course this year.
Location:
OM Germany
Alte Neckarelzer Str. 2
74821 Mosbach
Germany
Date: 28 – 31 October 2017
Course fee: 340 € incl. full board, shared room accommodation, and course material.
The price without accommodation and breakfast is 290 €.
Students and job seekers get a discount of 50 €.
An early bird discount of 30 € will be available until September 17.
PLEASE NOTE that the course language is English.
October 1, 2017
New director announcement
Friday Blog Update
August 10, 2017
August 1, 2017


June 1, 2017
We are excited at the launch of GLOBAL Intent and this new website!
"Our new minimalist website has been designed to work well on the mobile platform, to load fast, 'no splash – no flash', no pictures of random people, just the facts. A resource rich website with a simple navigation structure designed to get people to what they are looking for in 3 clicks or less. – We help you get there!"
We will be adding more resources and features in the coming months. Additionally, a new article will be posted monthly. Stay tuned!'

We have a limited number of these Kingston 8GB engraved USB sticks. They come in a tin presentation box. We suggest you put the USB on your key chain so it will be available should the need arise to copy or share something. The tin box would look nice on your work desk, especially if filled with your favorite mints.
For a donation of $100 or more, we will send you one post haste!
Go to our donation page and let us know you want one.

Tentmaking Today
Formerly known as Tentmaking Briefs, this widely read eJournal will be launched as an independent publication for the worldwide tentmaking movement in September 2017.
Online Course
The online version of our class room course will soon be available from just about anywhere in the world.
COURSES
"I see the competitive advantage of the Integrated Faith Tentmaking Course to be a field-driven approach combined with experience-based teaching. This kind of practical teaching, especially in the form of case studies directly from tentmakers in sensitive areas, is unique. I have not found the same real-life storytelling capability and deep in-field-knowledge anywhere else in the field of teaching on mission".
– Linda Christiansen 
Missions Consultant & Missions Pastor


SAMPLE COURSE SCHEDULE
Tentmaking Seminars
As of June 2017, this seminar has been attended by 2897 people in 13 countries. We can bring it to your church or organization, just contact us.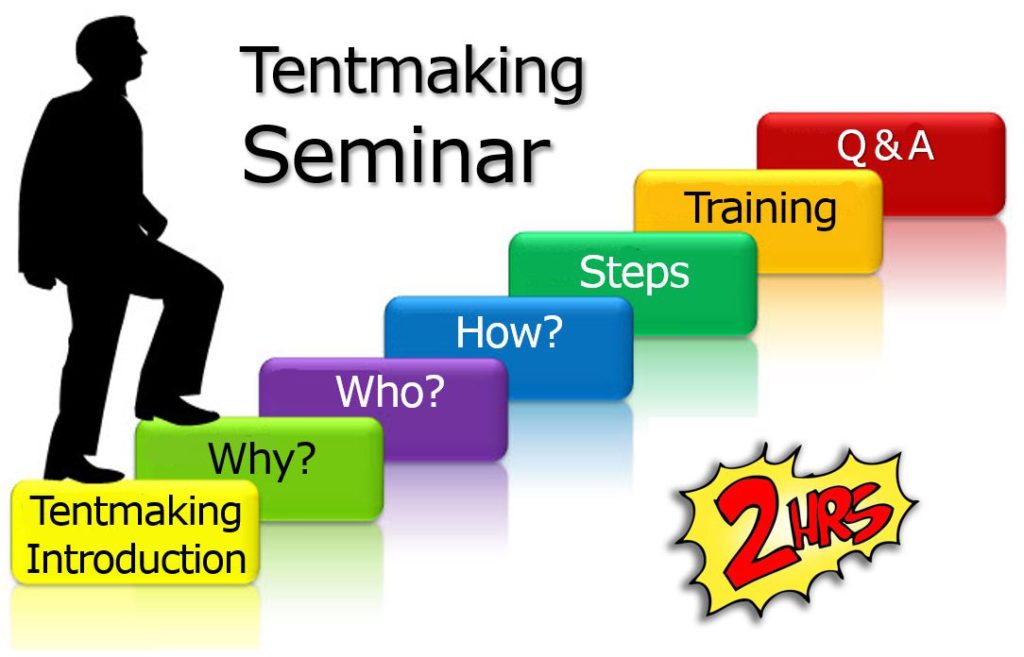 WHAT YOU WILL LEARN AT OUR COURSES, SEMINARS & EVENTS
Tentmakers personal stories
Biblical basis of tentmaking & work
Today's tentmaker challenges
Working in sensitive areas
Finding an international job
Cross cultural preparation
Principle of Tolerable Risk
Real world Case Studies
Sending platforms
Spiritual challenges & disciplines
Telling your story
Sharing your Faith @ Work
Hospitality as ministry
Making disciples that make disciples
Starting a Bible study in your home
House church planting
Team Dynamics
Tentmakers and their churches
The preparation process
How to promote tentmaking
If I could roll back the last six years of education GO Equipped is the one course I would HAVE to take. It is the most concise and practical.
For 2 days, God was pouring out experiences, examples, strategies and opportunities to merge my talents and career with my ministry. – Mexico 2015
The snow and cold did not dampen our time together at this wonderful missions school. I was amazed to find participants from Moldova, Germany, Finland, Brazil, Italy, Norway and Canada!
I told my former boss that this course was one of the best programs for training missionaries I have participated in. Please pass my gratitude to all the teachers. – Mission Leader | USA
I sat in class living one "wow" moment to another. Just when I thought it could not get any better, you upped the ante. I will be digesting what I heard for years to come.
Not only did this course help me plan for going as a tentmaker, it also gave me practical advice on how to start being active with sharing my faith here at home while I finish my studies.
The local church I Pastor in Pretoria is no longer the same after my training in Florida early this year. Everyone knows it is their responsibility to go into their work places and neighborhood to win souls to the Lord. – Sammy M, South Africa
I was impressed by the teachers & their creative teaching, not "death by power point". I absorbed much more due to the effectiveness of the presentation and handouts.
Coming to a GO EQuipped course will re-energize your faith walk and give you ideas you can put into effect now, and guide you in what to consider for the future. – Pharmacist
This approach to missions needs to be promoted broadly and influence a younger generation to prayerfully consider serving God in this way.
Expected practical advice for missions. It was much more than that. Lots of new ideas that I can apply for everyday life and pass on to others.